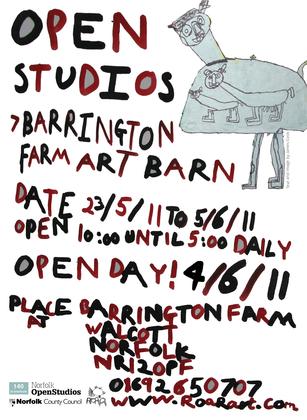 Barrington Farm Open Studios
The Barrington Farm Art Barn is a vibrant studio supporting over 40 self-taught artists. Disciplines include painting, drawing, printmaking, sculpture, textiles and craft with prices starting at £5. This is your chance to come and meet the artists and be inspired at one of Norfolk's most unique studios. Free parking and disabled access. All welcome!

Open daily 10am–5pm

For more information or group visits please email or phone the Art Barn on 01692 650707. We are listed as No.140 in the Norfolk Open Studios brochure.
Barrington Farm, Barrington Farm, Walcott, Norfolk, NR12 0PF
Tel: 01692 650707