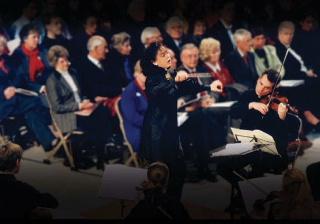 Chamber Orchestra Anglia 10th birthday concert

Chamber Orchestra Anglia (COA) is staging its 10th birthday concert at The Forum in Norwich on Sunday, November 6 at 7pm. Returning to the venue where the professional orchestra was launched in 2001, COA is presenting a programme of music from medieval to contemporary. The main work is Stravinsky's The Soldier's Tale. Nigel Rees, presenter of BBC Radio Four's Quote, Unquote, will take the role of narrator. The evening will be compered by BBC Radio Three presenter Christopher Cook.
Tickets are £12 for the main atrium (cabaret style seating) or £15 on the Pizza Express bridge. A three-course meal at Pizza Express, price £12.95, is available for bridge ticket holders from 6pm. Tickets from the Theatre Royal Box Office, tel. 01603 630000.
Chamber Orchestra Anglia, The Forum, Norwich, Norfolk, NR2 1TF
Tel: 01603 630000