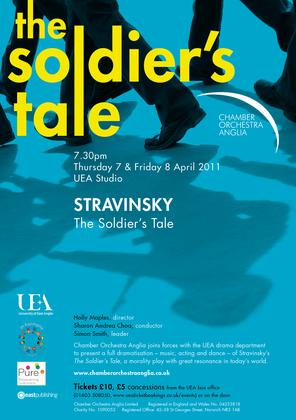 Chamber Orchestra Anglia and UEA Drama Present Stravinsky's The Soldier's Tale
Chamber Orchestra Anglia is joining forces with University of East Anglia's (UEA) drama department to present a dramatisation comprising music, acting and dance of Stravinsky's The Soldier's Tale at UEA Drama Studio on Thursday 7 and Friday 8 April at 7.30pm.

The Soldier's Tale was written and first performed in 1918. This Faustian story focuses on a young soldier who gives his fiddle to the Devil in return for riches and luxury and then battles to regain control of his life. The piece was written to be performed by seven musicians with a narrator, along with actors playing the roles of the soldier and the Devil and a dancer as the princess. Chamber Orchestra Anglia's collaboration with UEA features a cast of 11 actors and dancers who will present a full dramatic and dance interpretation of the soldier's struggles with the Devil.
Chamber Orchestra Anglia, University of East Anglia Drama Studio, Norwich, Norfolk, NR4 7TJ
Tel: 01603 508050