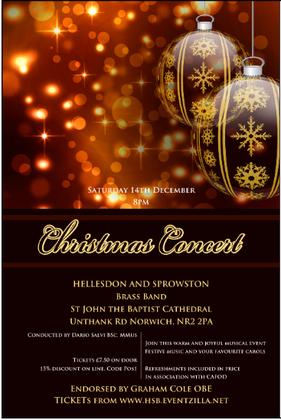 Christmas Concert
Hellesdon and Sprowston Brass Band welcomes you to join us for our Christmas Concert on Saturday 14th December!

Taking place at the magnificent St John the Baptist Cathedral Norwich, the second largest Catholic cathedral in the country, this event promises to be something special!

Hellesdon and Sprowston Brass is one of the largest Brass Bands in the county and under the expert direction of Dario Salvi Bsc MMus they are going from strength to strength, playing for many of Norwich City council events and wowing the crowds!

Our Patron, Graham Cole OBE (Better known for his role as "PC Stamp" in "The Bill") has endorsed this event, saying,
"I enjoy the bands performances in the county and the dedication of our musicians and wonderful conductor Dario Salvi."
He wishes us a great night full of music fun and fellowship.

The concert starts at 8pm

Tickets are available online or on the door at £7.50 each

For details of online ticket sales and an exclusive discount visit our Facebook page by clicking on the website link below!


Hellesdon and Sprowston Brass, St John The Baptist's Roman Catholic Cathedral, Norwich, Norfolk, NR2 2PA