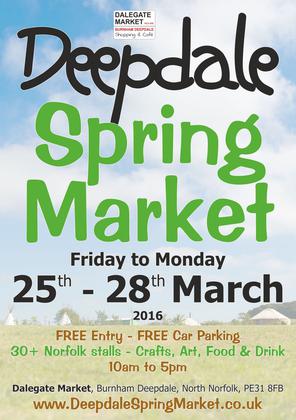 Deepdale Spring Market
We look forward to welcoming you to Dalegate Market in Burnham Deepdale on Friday 25th to Monday 28th March 2016, the Easter weekend, for the Deepdale Spring Market, the start of Spring on the beautiful North Norfolk Coast.

Dalegate Market will host 30+ Norfolk artisans and producers in a large marquee, the beach hut pop up shops and many outside stalls. Of course the wonderful shops and Deepdale Cafe of Dalegate Market will be open throughout the weekend.

FREE Entry
FREE Car Parking (in the farm yard & a stubble field)

Applications for stalls are now open and we'll be announcing which Norfolk artisans and producers will be attending shortly.

In the meantime, please put the dates in your diary and we look forward to seeing you soon.
Dalegate Market | Shopping & Cafe, Dalegate Market, Burnham Deepdale, Norfolk, PE31 8FB
Tel: 01485 210305