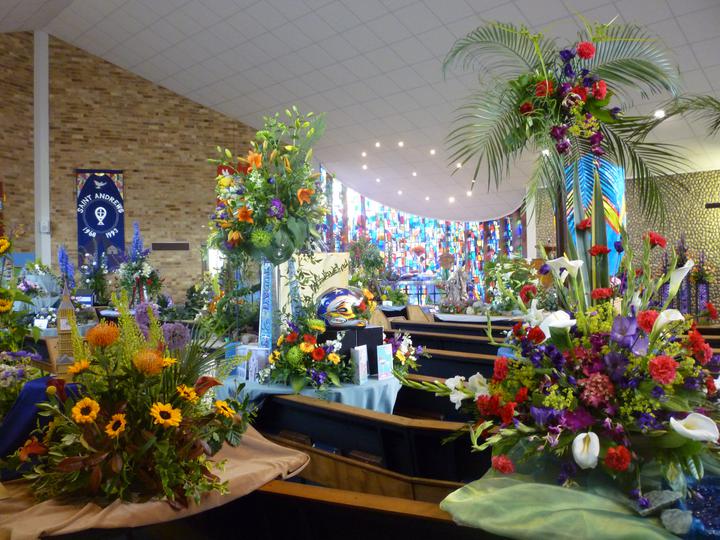 Flower Festival "A Touch of Wonder"
A Spectacular annual Flower Festival with over 30 stunning arrangements by local flower arrangers. This year the theme is "A touch of Wonder"...
To compliment the enjoyment of the sight and perfume of the flowers, quiet background music is played by our organists....
Refreshments are served, cafeteria style, with ploughmans lunches, cream teas, snacks each day (but please note, cafeteria closes at 5pm daily)...
A wide variety of stalls – including, souvenirs, handicrafts, soap, jewellery, books, bric-a-brac, toiletries, Traidcraft Stall, Christian Bookstall, plants and much more, along with competitions and quizzes and a raffle. Plus a children`s area at the weeken. There`s "something for everyone!"...
Proceeds from the Festival are for Church funds, with a donation to be shared between Sheringham Playpark Revamp & Sheringham Woodfields School
The church and halls are all wheelchair friendly and there are disabled toilet facilities....

The Festival is open...
Thursday 10-5
Friday 10 -5...
Saturday 10 - 5...
Sunday 12 - 6...
Festival Worship: Friday 9.15 a.m. Communion...
Sunday: 10.30 morning Worship, 6.30 p.m. Festival Praise.

St. Andrew`s Methodist Church, Cromer Road, Sheringham, Norfolk, NR26 8SA
Tel: 07889694086