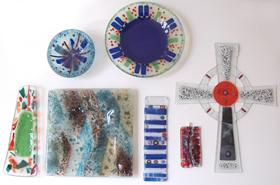 Kiln Fused Glass 2 day Workshop
Students will use a variety of materials and techniques to produce items of their choice which may include jewellery, tiles, hanging wall panels and small bowls. Clear and coloured glass materials will be available for experimentation and the processes involved in fusing and laminating will be explained and demonstrated.

Items made on day one will be fired in our studio kiln overnight so that participants can gain some understanding of the processes involved in firing. Small pieces fired on day one can be taken home on the second day unless they remain for a second firing (e.g. small bowls take two firings, one to fuse and another to 'slump').

All items done on day two will be fired after the workshop but pieces may collected or dispatched by arrangement.
It is usual for work to be ready for collection/despatch within 10 days.
The Studio @ Burlingham Hall, The Green, North Burlingham, NORWICH, Norfolk, NR13 4SZ
Tel: 01603 270455