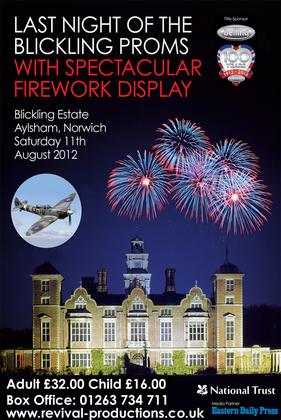 Last Night of The Blickling Proms
For one night only, on Saturday 11th August 2012, Blickling Hall will be playing host to a grand, British Proms spectacular with choreographed fireworks. It promises to be a true celebration of some of the greatest music ever written and performed by the highly acclaimed Sinfonia Viva orchestra and Soprano Annette Wardell, under conductor Roderick Dunk. And if that isn't enough to whet the appetite, there will also be a magnificent, choreographed air display by the Grace Spitfire to William Walton's thrilling "Spitfire Prelude" to conclude the first half. Tickets are available for £32 (quantity based discounts also available), by visiting www.revival-productions.co.uk or calling the box office on 01263 734711!

This is an event not to be missed. It will represent all that is best in a great, outdoor concert where visitors can bring their own picnics and wine, soak up the atmosphere and come together to sing Rule Britannia, Jerusalem and Land of Hope and Glory in this beautiful lakeside setting. Flag waving and audience participation will be whole-heartedly encouraged and the concert will finish with a stunning firework finale over the lake. Car and coach parking will be free.

Revival Productions, Lisieux House, Church Road, Ashley, Market Drayton, Staffs, TF9 4LA
Tel: 01263 734711