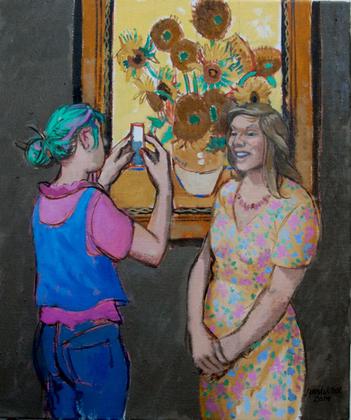 Looking Around Us
Looking Around Us brings together the work of three Norwich 20 Group figurative painters, David Jones, Jane Mackintosh and Barry Watkins. The show is open daily, Monday to Saturday, 10am to 5pm and Sunday, 12noon to 5pm, free entry.

David Jones, who is curating the exhibition, explained: "The three of us take the world around us as a starting point. The idea might come from travel, something quite trivial seen in the street, or from everyday human activity."

"I have long admired Barry and Jane's work; it is underpinned by assured draughtsmanship and long experience. They both handle paint very confidently but in different ways. Barry takes great pleasure in the tactile qualities of his materials. Jane suggests a great deal with very economical means. It is my hope that my paintings share some of the qualities that I admire in the others' work. Our differing approaches will give considerable variety to the show."

All three artists are former Chairmen of Norwich 20 Group.

Wymondham Arts Centre, Becket's Chapel, Church Street, Wymondham, Norfolk, NR18 0PH