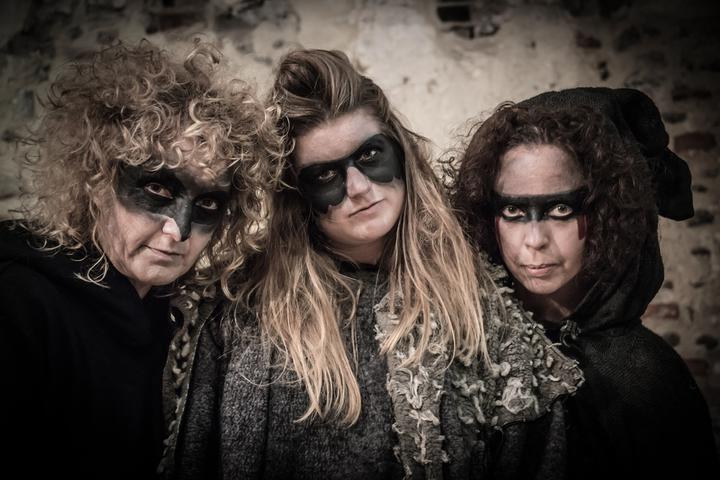 Macbeth
20th Anniversary show from Crude Apache

Norwich's renowned theatre company present new production of Macbeth, the very first show they performed

To celebrate their 20th anniversary, Norwich's renowned theatre company Crude Apache will perform their new production of Shakespeare's Macbeth. Back in 1994 'The Scottish Play' was the first show the company ever performed, in the Rotunda in Norwich Castle and many of the original cast are still involved with the company to this day.

Jo Edye who played Macduff in the 1994 version directs this new production, set in the Dark Ages of the 11th Century. There will be 9 performances between 5 and 15 November in the atmospheric surroundings of Dragon Hall with its timbered walls, dramatic roof spaces and dark corners.

Jo has enhanced the already creepily supernatural feel of the play with an aptly moody monochrome setting, enhanced by Tim Lane's haunting soundscape which makes extensive use of bird and found sounds. An opening scene featuring sinister crow like witches adds to the air of otherworldly menace.

Macbeth is renowned as Shakespeare's darkest tragedy and one of his most bloody and violent as the scheming, murderous title character sets out to realise the witches' prediction that he will become King of Scotland. Crude Apache don't shy away from representing the ensuing horror with spectacularly arranged fight scenes and theatrical blood contrasting vividly with the otherwise subdued colour palette.

As Macbeth and Lady Macbeth descend into further crime, madness and paranoia they are often considered arch villains but director Jo Edye has a different view 'At the time competing clans were in constant struggles for control. Yes the Macbeths committed multiple murders in a ruthlessly treacherous bid to first seize power and then maintain it, but they really were only typical of a period steeped in violence and murder. People would literally do anything to achieve their goals and human life was cheap and disposable. Shakespeare understood this and this is demonstrated in the complex characterisation in the play.'

Since their formation Crude Apache have presented over 50 accessible, affordable and entertaining plays in and around Norwich. Their members are drawn together by friendship, passion for theatre and a love for Norwich and the surrounding area.

Dragon Hall, King St, Norwich, Norfolk, NR1 1QE
Tel: 01603 663 922