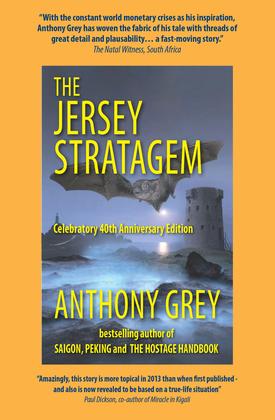 Meet Norfolk Author Anthony Grey at The Holt Bookshop
Norfolk author and former EDP journalist, Anthony Grey will be at The Holt Bookshop from 11am to 12.30pm. He will be signing copies of The Jersey Stratagem, a 40th anniversary edition of his first novel.

Originally called Some Put Their Trust in Chariots, this fast-paced Cold War thriller remains highly topical today, with its focus on the international super-rich and their schemes to evade tax. The 2013 edition includes a new postscript, in which Anthony Grey explains the origins of the novel, revealing it to be based on a true-life situation.

The novel was written in summer 1972, when Anthony and his late wife Shirley were living on Jersey. The Grey's spent three years on the island, while Anthony recuperated from the experience of being held in solitary confinement in Beijing for more than two years, by Mao Tse-Tung's Red Guards, during China's chaotic Cultural Revolution. Anthony had been a Reuters foreign correspondent and went to China following a stint in the then East Germany.

The Jersey Stratagem draws heavily from Anthony's time on Jersey, including a motoring holiday to the south of France, and his experience as a Cold War journalist.

The Holt Bookshop, 10 Appleyard, Holt, Norfolk, NR25 6AR
Tel: 01263 715858