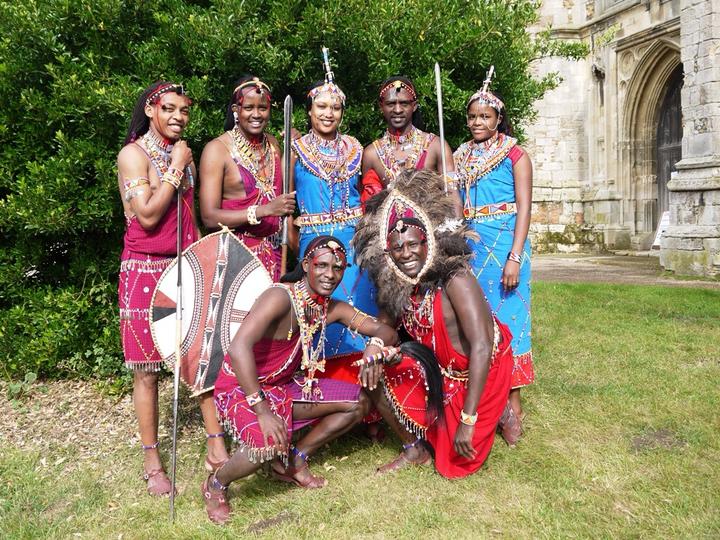 Osiligi Massai Warriors come to Norfolk!
THE OSILIGI MAASAI WARRIORS COME TO CROMER PARISH CHURCH
On Sunday 12th October at 3pm the Osiligi Maasai Warrior Troupe will perform in concert at Cromer Parish Church their first performance in the town, as part of their UK tour
The Troupe are stunning performers. Every performance they give sees them receive rapturous applause, leaving behind unforgettable memories for their audience.This is their eleventh year of touring the UK, which has seen them perform so outstandingly at many prestigious venues,including the Cathedrals of Ely (twice), Salisbury and Exeter, and have performed before Royalty on three occasions.
The tours help the members of the Troupe raise money for their families and their community, which is situated some 30 miles south of Nairobi, where life is tough. Over the years, the tours, and the charity (www.osiligi.org ) which they brought about, have seen the lives of the Troupe, and the families around them, move from abject poverty, where, for example, water came from a stagnant pond some five miles away, whereas they now have fresh clean water in two points in their community.The Troupe's success and the spin-off to the charity have subsequently seen the unhealthy kerosene, to light their homes, now replaced by solar lighting, the building of a new church, and,most wonderfully, a new school. The latter now has 130 pupils, all sponsored by UK supporters
The Troupe's performance is a sensation to watch, with all ages, from five to ninety five, being enthralled and excited by their natural rhythm and song, and their jumping, for which they are famous, is wondrous to watch ! All performances, which tell the story of their lives, are fully narrated, and audience participation a part of the show. Tickets priced £9 adults, and £1 children) are available from North Norfolk Information Centre, Louden Road Cromer or K's Hardware 37 Church Street Cromer
A unique,once in a lifetime experience ! An unforgettable event, not to be missed !!
Norfolk , Nr279en
Tel: 01263513811