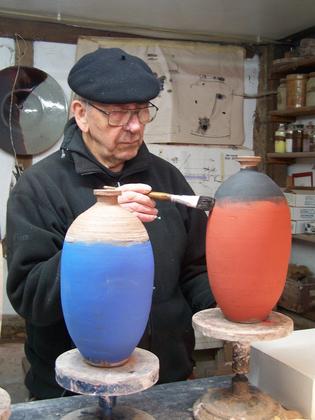 Robin Welch international ceramic artist - exhibition Wymondham Arts Centre
Robin Welch, international ceramic artist from Stradbroke Suffolk is launching Wymondham Arts Centre's 2012 season with a solo show, The Potter and The Painter, open Monday to Saturday 10am to 5pm and Sunday 12noon to 5pm, free entry. Robin Welch has established an international reputation for his work, which combines his skills as a sculptor, painter and potter.

In a career lasting more than more than 50 years, Robin Welch has exhibited throughout the UK and in the USA, Australia, Finland, Germany, Japan, Norway, Italy and Sweden. His work can be found in public collections in the UK, notably Norwich Castle Museum & Art Gallery and the Victoria and Albert Museum, as well as collections in Australia and The Netherlands.

Wymondham Arts Centre, Becket's Chapel, Church Street, Wymondham, Norfolk, NR18 0PH
Tel: 01603666011