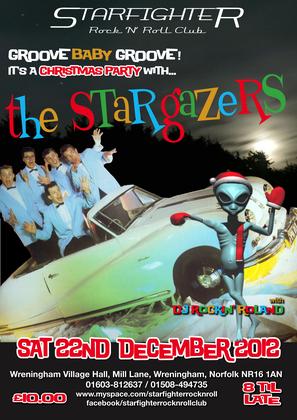 The 'STARGAZERS' & International D.J Rockin Roland
Yep it is THE 'Stargazers' who hit the charts in the 1980's with such great jivin tunes as 'Groove Baby Groove' & 'Hey Marie', paying tribute to such great names as Bill Haley, Louis Prima etc. So put on yer dancin shoes & make your way to the 'Starfighter', spinnin the discs will be International D.J Rockin Roland who can be heard twice a month on B.B.C Radio Norfolk with Stephen Bumfrey.
£10.00 on the door - Under 16's Free
8.00pm Til Late.
Starfighter Rock & Roll Club , Wreningham Village Hall, Mill Lane, Wreningham, Norwich, Norfolk, NR16 1AN
Tel: Roland - 01508-494735