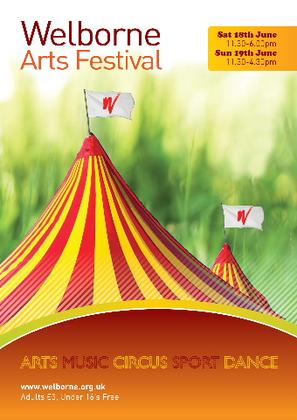 Welborne Arts Festival Norfolk – Arts, Music, Circus, Sport, Dance
The 9th Welborne Arts Festival, the biggest village-based contemporary arts festival in Norfolk, returns June 18 (11.30am-6pm) and June 19 (11.30am-4.30pm) with a packed programme of arts, music, circus, sport and dance. The event is staged around the beautiful 11th century All Saint's Church. Admission to the festival is adults £5 and under 16 free.
South Norfolk's Circus Ferrel, described as "East Anglia's brightest friendliest all human show", will be pitching its Big Top in the meadow at the festival and will run two shows a day at 1.30pm and 4.30pm.
Welborne Arts Festival, The Big Top, the meadow, Welborne, nr Mattishall, Norwich, Norfolk, NR20 3LQ
Tel: 01362 850327