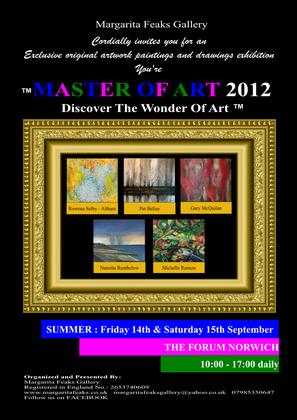 You're Master of Art SUMMER Exhibition 2012
Come and Join Us!

You're ™ MASTER OF ART 2012
Discover The Wonder Of Art ™

Summer Exhibition: Friday 14th & Saturday 15th September
The Forum Norwich
10 a.m to 5 p.m daily
FREE Admission

The moment you've waiting for!

You're Master of Art Summer Exhibition 2012, for an exclusive original masterpiece of artwork paintings and drawings selling exhibitions from you're living artists from East Anglia and beyond. An opportunity to meet the artists, see and buy original art in variety of media in affordable prices. Plus a chance to buy an original piece of art from the curator itself and recently known as International Contemporary Master, Margarita Feaks. Don't miss it!

For further information:
Email: [email protected]
or call: 07985350647

The copyright for all images is owned by the individual artists.