The Official Norfolk Broads App
for iPhone & iPad
The simplest and best way to explore all that the Norfolk Broads area has to offer. This is your personal travel planner and tourism guide for the Norfolk Broads. The tourism guide norfolkbroads.com has been around since 1998 promoting tourism in our lovely part of the world. Over the years it has had many facelifts to keep it modern, fresh, highly informative and easy to navigate. New for 2013 is our fully interactive iPhone and iPad App!
We developed this App to give visitors to the Norfolk Broads a fantastic, easy to use experience when they are on the go. Once downloaded, you can access information on What To See, Where to Stay and What To Do on the Norfolk Broads. We even have live web cameras, bike routes, walking trails, mooring locations and parking spots. It is fully interactive, so if you choose to hang upside down from boat rigging, meander through the sand dunes, or wander around the quaint villages or explore the City of Norwich, you can still view the App with complete ease - although the first activity might make your eyes water!
Having been thoroughly road tested at length by a variety of age groups, some who had not used a iPad or iPhone before, it was declared very easy to use. The interactive map can be rotated, enlarged, and viewed from an overhead aspect or tilted to give you a completely different view of the land. Favourite attractions and locations can be saved and remembered by the App, which is great when planning a day out and you cannot get lost - your location is clearly marked on the map and a taxi to the nearest pub, cafe or attraction is just a button push away.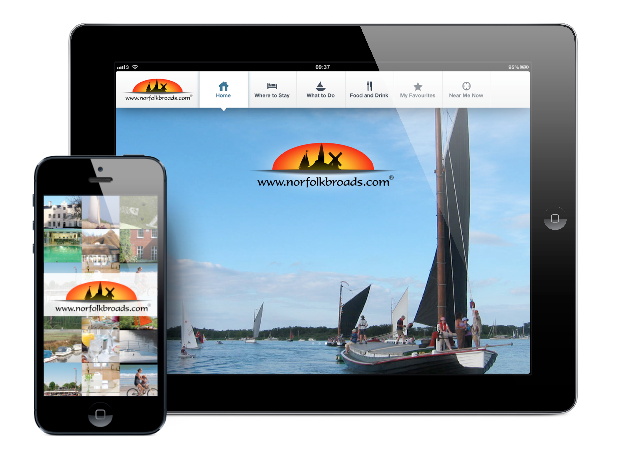 Find Accommodation, Moorings and more on the Norfolk Broads
Using the Norfolk Broads App couldn't be easier. Simply select the category you are looking for and follow the on screen steps. Our interactive map will show you your location relative to the place you are searching for.
Add any listing in the app into your 'favourites' and you will have a custom travel planner ready whenever and wherever you are.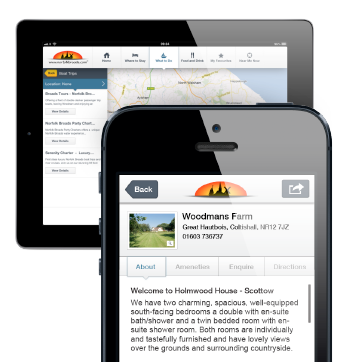 Find Restaurants, Bars, Cafes and Riverside Pubs on the Broads
Our unique App really allows you to explore the Norfolk Broads with ease. By showing you the places to visit on a map you can really get a sense of the region. If you are on a boating holiday, our app will show you the restaurants and pubs that have riverfront moorings so you can arrive in style!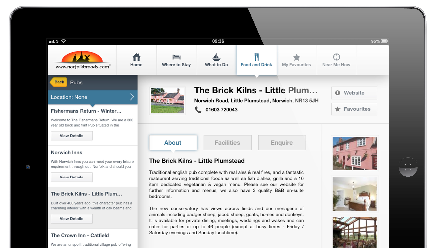 Locate Cycle Paths & Routes, Moorings & Parking Places
For any visitor to a new place, finding somewhere to park the car, boat or bike is something of a pain. We have taken all that hassle out by showing our app users where the best places are and giving them as much information as we can about each place.
This means less time figuring out the boring stuff and more time getting out and enjoying the Norfolk Broads.